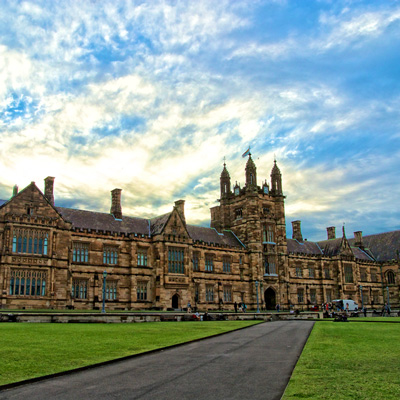 University of Sydney
Australia
Visit Website
---
Not available in 2022/23.
Considered to be Australia's first university, the University of Sydney (USYD) is one of the best Universities in the world. 
Hosting c. 60,000 students (c.1/3 being international) the main USYD campus is considered one of the world's most beautiful universities – a mixture of historic Neo-Gothic sandstone building with the contemporary, helping to create a stunning learning environment. However USYD fosters a diverse and inclusive campus environment aiming to support all whilst providing exceptional facilities and teaching with innovative edge and a drive to challenge traditional ways of thinking.
Academically USYD offers one of the widest range of academic programs of any university in Australia. The student experience is world renowned – ranked the best in Australia, USYD have c. 200 student clubs and societies, 43 sports clubs, 2 fitness centres and multiple eateries offering a broad range of activities and services for its students.
Located c.4Km from the Sydney city centre, studying at USYD provides the opportunity to live and study in a vibrant and multicultural city, consistently ranked as one of the best cities in the world to be a student.
When can you study abroad?

You need to select your School or Department to find out when you can study abroad.
Student Experiences

An experience not to forget!

One of the reasons I applied to my course at the University of Reading was because it gave me the…

Find out more