The Turing Scheme is the UK government's global programme to support study and work abroad.
It supports Global Britain by providing funding that universities can offer to students to financially support their life-changing experiences studying or working abroad.
Through the Turing Scheme, study and work abroad participants have a chance to develop new skills, gain vital international experience and boost their employability. They can also develop a wide range of soft skills, language skills and a better understanding of other cultures. 
Launched initially as a one-year programme (2021/22) academic the UK Government has since committed to support the Turing Scheme for the next three years until 2024/25.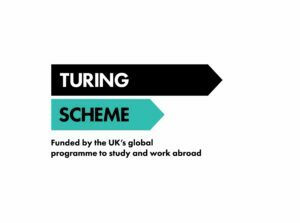 Important Updates
The national institutional application window for Turing Scheme funding for the 2023/24 academic year is open. The submission deadline is early April 2023.
If you are a member of staff planning international activities which could benefit from Turing Scheme funds, please contact the Erasmus & Study Abroad Office via studyabroad@reading.ac.uk
Please note that Turing Scheme funding is not guaranteed.
How the Turing Scheme works

The Turing Scheme is administered by the Erasmus & Study Abroad Office (ESAO) on behalf of the University of Reading.

First, ESAO applies for funding from the UK government on behalf of the University of Reading. This process is known as an institutional application.

The Turing Scheme Delivery Partner (Capita) then determines how much funding to provide to each institutional applicant, and outlines any terms and conditions in accordance with which the money must be spent (including country and duration).

The funds that the University of Reading receives are then managed locally by ESAO. Students planning to study or work abroad can apply for funding from the University. This is known as an individual application.

Important Notes

Turing Scheme funding is not guaranteed.
Turing does not organise placements for students – it only provides funding. Your placement abroad must be established prior to applying for Turing Scheme support.
Who and what can be funded

Funding permitting, the Turing Scheme offers financial support for study, work, research and volunteering placements overseas, at undergraduate and postgraduate levels.

Placements must take place between 01 September 2023 and 31 August 2024. These placements must last:

Minimum: 4 weeks

Maximum: 12 months

Funding is only available to support University of Reading students going abroad; not to support students from partner institutions/organisations coming to Reading, or recent graduates from the University of Reading.
Eligible destinations

Eligible destinations include:

Non-UK Higher Education providers (i.e., a university outside the UK).
Any non-UK public or private organisation active in the labour market or in the fields of education and training.

The University of Reading Malaysia and Henley South Africa are not eligible destinations.

You can find a full list of eligible destination countries on the Turing Scheme website.
Standard funding rates

The funding per student is dependent on:

The duration of the overseas placement.
The destination country.

Additional funding might be available to support students from low-income households (less than £25k per annum), and students with special educational needs and/or disabilities (SEND).

NB: Turing funds are not guaranteed for any student, even if a placement is compulsory.
Additional funding for low-income students

Students who can demonstrate a household income of less than £25k per annum might be eligible to receive:

– Enhanced cost of living grant
– Travel grant

Enhanced Cost of Living Grant

This consists of an additional £110 per month on top of the standard grant rate '.

Travel Grant

This consists of funding to put towards the direct costs of travel (e.g., flights etc.). The exact amount of the travel grant will be dependent on the distance between the University of Reading and your destination institution/organisation.

The travel grant rates are outlined below:

| Distance | Travel Grant Amount |
| --- | --- |
| 10 to 99km | £20 |
| 100 to 499km | £165 |
| 500 to 1999km | £250 |
| 2,000 to 2,999km | £325 |
| 3,000 to 3,999km | £480 |
| 4,000 to 7,999km | £745 |
| 8,000 to 12,000km | £905 |
| 12,000km+ | £1,360 |
Application process

Individual Turing Scheme applications are managed by the Erasmus & Study Abroad Office (ESAO).

Eligible students on semester or year-long student placements who are already known to ESAO will be provided with application guidance via email as soon as individual applications open.

Students can contact the Erasmus & Study Abroad Office for more information.

Further details will be published in the future about available funding for non-exchange placement students.